29 Shaftesbury Avenue, London, W1D 7ES GB
Panoramica sui servizi disponibili
La più ampia disponibilità di biglietti del West End
Disponibilità di posti in tempo reale
Scegli il posto
La prenotazione è gestita direttamente dal sistema del botteghino
Nessun costo
di prenotazione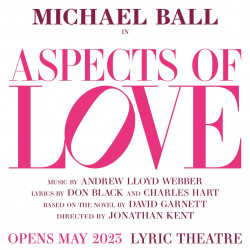 Aspects of Love
Prestazioni da: venerdì 12 maggio 2023
Prestazioni fino a: sabato 11 novembre 2023
Con: Michael Ball
Biglietti
a partire da 22,99€
Prenota biglietti
Informazioni
Biglietti Scontati
A proposito di Aspects of Love
Orari spettacoli
Prestazioni da: venerdì 12 maggio 2023
Prestazioni fino a: sabato 11 novembre 2023
Con:
Michael Ball
Descrizione di Aspects of Love
'Nothing in the world will ever be the same'
34 years after having starred in the original West End production, Michael Ball returns to Andrew Lloyd Webber's celebrated musical Aspects of Love at the Lyric Theatre for a strictly limited season, this time playing the role of George. Michael Ball said:
"Aspects of Love holds a very special place in my heart. I am absolutely delighted to revisit Andrew Lloyd Webber's glorious score in a re-imagined chamber production in the West End.
With lyrics by Don Black and Charles Hart, based on the novel by David Garnett and directed by Jonathan Kent, this heartbreaking story of passion, love, life and loss in post-war France and Italy, follows three generations of the Dillingham family spanning 17 years.
Alex falls in love with an actress Rose and as the pair embark on a passionate affair, the unexpected arrival of Uncle George changes all their lives and those around them forever as they discover how love - in its many forms - truly does change everything.
Limiti di età
Age recommendation 12+
I prossimi spettacoli di Aspects of Love al Lyric Theatre
mercoledì
17 mag 2023
19:30
Biglietti economici per Aspects of Love
Guarda Aspects of Love a Londra! Possiamo farti risparmiare fino al 70% sui biglietti per Aspects of Love! Se sei alla ricerca di biglietti per teatro scontati, dai un'occhiata qui sotto alle nostre offerte per Aspects of Love al Lyric Theatre.
Nessun costo
di prenotazione
SAVE ON TICKET PRICES Valid Monday-Thursday evening performances 12 May - 8 June 2023. Book by 4 April 2023.