Shaftesbury Theatre
210 Shaftesbury Avenue, London, WC2H 8DP GB
Attualmente in scena al
Shaftesbury Theatre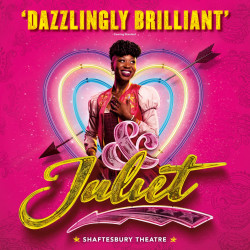 aperto
& Juliet
Shaftesbury Theatre
4,8/5
-

Basato su

269

recensioni - (Recensioni)
4,8

269

recensioni
Biglietti
a partire da 31,49€
Famiglie (86%)
Coppie (90%)
Appassionati (87%)
i
& JULIET
THE MOST FAMOUS LOVE STORY OF ALL TIME. REMIXED.    
What if Juliet's famous ending was really just her beginning? What if she decided to choose her own fate?
Join Juliet on this sensational journey of self-discovery and second chances, told through some of the most glittering pop anthems of the last three decades from legendary songwriter Max Martin, including …Baby One More Time, Since U Been Gone, Roar, Everybody (Backstreet's Back), Love Me Like You Do and Can't Feel My Face, all brilliantly arranged by the Tony and Grammy Award-winning orchestrator Bill Sherman.
Prestazioni fino a: sabato 25 marzo 2023
Durata: 2 hours 30 minutes
& Juliet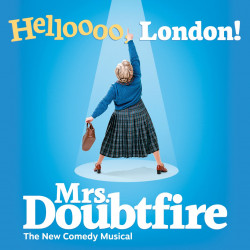 Apre 12 mag 2023
Apre 12 maggio 2023
Mrs Doubtfire the Musical
Shaftesbury Theatre
Biglietti
a partire da 31,49€
Out-of-work actor Daniel will do anything for his kids. After losing custody in a messy divorce, he creates the alter ego of Scottish nanny Euphegenia Doubtfire in a desperate attempt to stay in their lives. As his new character takes on a life of its own, Mrs. Doubtfire teaches Daniel more than he bargained for about how to be a father.
Prestazioni da: venerdì 12 maggio 2023
Prestazioni fino a: sabato 13 gennaio 2024
Durata: Approx. 2 hours 30 minutes (incl. interval)
Mrs Doubtfire the Musical
I servizi presenti al Shaftesbury Theatre
Ventilato
Bar
Bagni per disabili
Impianto audio a infrarossi per disabili
Membro Q-Park
Toilette
Accesso per sedia a rotelle
Biglietti d'ingresso al Shaftesbury Theatre
Gli spettatori con disabilità e i loro accompagnatori hanno diritto a uno sconto. Si prega di contattare il Shaftesbury Theatre al numero 020 7379 5399.
Posizione Shaftesbury Theatre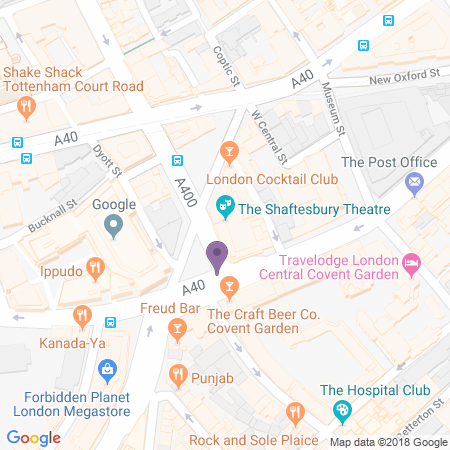 Indicazioni stradali
Informazioni turistiche
Stazione della metropolitana più vicina
Tottenham Court Road

Covent Garden
Stazione ferroviaria più vicina
Linee della metropolitana
Central
Northern
Piccadilly
Autobus giornalieri
(Tottenham Court Road Station) 8, 29, 55, 134, 176, 242, 390; (Museum St) 1, 19, 25, 38, 98
Autobus notturni
(Tottenham Court Road Station) 134, 176, 242, 390, N8, N29, N35, N41, N55, N68, N98, N121, N253; (Mu