St Martin's Lane, London, WC2N 4ES GB
Panoramica sui servizi disponibili
La più ampia disponibilità di biglietti del West End
Disponibilità di posti in tempo reale
Scegli il posto
La prenotazione è gestita direttamente dal sistema del botteghino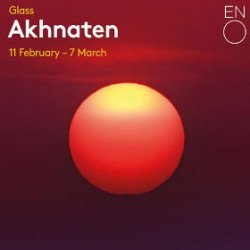 Akhnaten
Prestazioni da: sabato 11 marzo 2023
Prestazioni fino a: mercoledì 5 aprile 2023
Durata: 2 hours 50 minutes
Biglietti
a partire da 13,99€
Prenota biglietti
Informazioni
Biglietti Scontati
A proposito di Akhnaten
Orari spettacoli
Prestazioni da: sabato 11 marzo 2023
Prestazioni fino a: mercoledì 5 aprile 2023
Durata: 2 hours 50 minutes
Descrizione di Akhnaten
Akhnaten is a mesmerising work whose text draws on ancient hymns, prayers and inscriptions sung in their original Egyptian, Hebrew and Akkadian. The opera's unique mood will transport you to the ancient world through music that combines Glass's characteristic minimalist voice with stylised movement and choreographed juggling to visualise the rhythms of his score.
I prossimi spettacoli di Akhnaten al London Coliseum
mercoledì
29 mar 2023
19:30
Biglietti economici per Akhnaten
Guarda Akhnaten a Londra! Possiamo farti risparmiare fino al 70% sui biglietti per Akhnaten! Se sei alla ricerca di biglietti per teatro scontati, dai un'occhiata qui sotto alle nostre offerte per Akhnaten al London Coliseum.
Non ci sono offerte speciali disponibili al momento, ma abbiamo ancora ottimi prezzi dei biglietti per Akhnaten al London Coliseum.