Silk Street, London, EC2Y 8DS GB
Panoramica sui servizi disponibili
La più ampia disponibilità di biglietti del West End
Disponibilità di posti in tempo reale
Scegli il posto
La prenotazione è gestita direttamente dal sistema del botteghino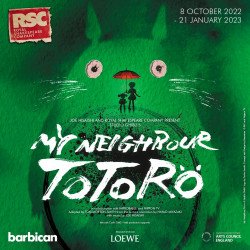 My Neighbour Totoro
Prestazioni da: sabato 8 ottobre 2022
Prestazioni fino a: sabato 21 gennaio 2023
Biglietti
a partire da 34,99€
Prenota biglietti
Informazioni
Biglietti Scontati
A proposito di My Neighbour Totoro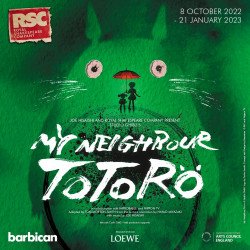 Orari spettacoli
Prestazioni da: sabato 8 ottobre 2022
Prestazioni fino a: sabato 21 gennaio 2023
Descrizione di My Neighbour Totoro
A global premiere as Joe Hisaishi and the RSC bring Studio Ghibli's enchanting classic coming-of-age film to the stage in a landmark new adaptation in collaboration with Improbable and Nippon TV.
Exploring the magical fantasy world of childhood and the transformative power of imagination, My Neighbour Totoro follows one extraordinary summer in the lives of sisters Satsuki and Mei as they are swept up in exciting adventures with their new neighbours – transported to a long-forgotten realm of spirits, sprites, and natural wonder.
The celebrated 1988 animated feature film by Hayao Miyazaki (Spirited Away) will be brought to the stage by its original composer Joe Hisaishi in this landmark new adaptation written by playwright Tom Morton-Smith (Oppenheimer).
Directed by Phelim McDermott with production design by Tom Pye, costume design by Kimie Nakano, and lighting design by Jessica Hung Han Yun, this ground-breaking production will feature puppetry created by Basil Twist and music from Joe Hisaishi's iconic score performed live.
I prossimi spettacoli di My Neighbour Totoro al Barbican Theatre
mercoledì
12 ott 2022
19:00
Biglietti economici per My Neighbour Totoro
Guarda My Neighbour Totoro a Londra! Possiamo farti risparmiare fino al 70% sui biglietti per My Neighbour Totoro! Se sei alla ricerca di biglietti per teatro scontati, dai un'occhiata qui sotto alle nostre offerte per My Neighbour Totoro al Barbican Theatre.
Non ci sono offerte speciali disponibili al momento, ma abbiamo ancora ottimi prezzi dei biglietti per My Neighbour Totoro al Barbican Theatre.