2 Queen Caroline Street, London, W6 9QH GB
Panoramica sui servizi disponibili
La più ampia disponibilità di biglietti del West End
Disponibilità di posti in tempo reale
Scegli il posto
La prenotazione è gestita direttamente dal sistema del botteghino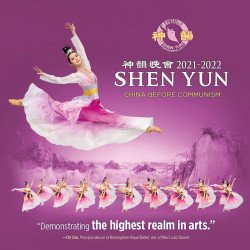 Shen Yun
3,5/5
-

Basato su

33

recensioni
Prestazioni fino a: martedì 31 maggio 2022
Biglietti
a partire da 104,49€
Prenota biglietti
Informazioni
Biglietti Scontati
Recensioni
A proposito di Shen Yun
Orari spettacoli
Prestazioni fino a: martedì 31 maggio 2022
Descrizione di Shen Yun
Experience The Beauty of Ancient China Before Communism
Shen Yun takes you on an extraordinary journey through China's 5,000 years of divinely inspired culture. 
Exquisite beauty from the heavens, profound wisdom from dynasties past, timeless legends and ethnic traditions all spring to life through classical Chinese dance, enchanting live orchestral music, authentic costumes, and patented interactive backdrops. Revisit a time when scholars and artists sought harmony with the Tao, or the "Way" of the universe, and when divine beings walked upon the earth to inspire humanity.
Join us for a night filled with courage and wisdom, light and hope... Experience Shen Yun! 
Biglietti economici per Shen Yun
Guarda Shen Yun a Londra! Possiamo farti risparmiare fino al 70% sui biglietti per Shen Yun! Se sei alla ricerca di biglietti per teatro scontati, dai un'occhiata qui sotto alle nostre offerte per Shen Yun al Hammersmith Apollo (Eventim).
Non ci sono offerte speciali disponibili al momento, ma abbiamo ancora ottimi prezzi dei biglietti per Shen Yun al Hammersmith Apollo (Eventim).