St Martin's Lane, London, WC2N 4ES GB
Panoramica sui servizi disponibili
La più ampia disponibilità di biglietti del West End
Disponibilità di posti in tempo reale
Scegli il posto
La prenotazione è gestita direttamente dal sistema del botteghino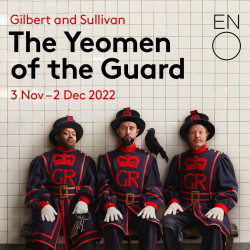 The Yeomen of the Guard
Prestazioni da: giovedì 3 novembre 2022
Prestazioni fino a: venerdì 2 dicembre 2022
Durata: 2h 40m (incl. interval)
Biglietti
a partire da 13,99€
Prenota biglietti
Informazioni
Biglietti Scontati
A proposito di The Yeomen of the Guard
Orari spettacoli
Prestazioni da: giovedì 3 novembre 2022
Prestazioni fino a: venerdì 2 dicembre 2022
Durata: 2h 40m (incl. interval)
Descrizione di The Yeomen of the Guard
The Tower of London is the scene for a tangled web of melancholy and mirth in Gilbert & Sullivan's beloved operetta, The Yeomen of the Guard. The arrival of a travelling troupe of performers sparks forbidden romances, fantastical plots and unrequited love.
The unjustly imprisoned Colonel Fairfax (Anthony Gregory, previously Nanki-Poo in The Mikado and former Harewood Artist) has a mutual attraction to the young daughter of the righteous Sergeant Meryll, one of the titular Beefeaters (Neal Davies). Phoebe (Heather Lowe) wishes Fairfax be released so they can have the wedding she desires, and enlists the help (and attraction) of Jack Point, a roving performer. A classic Gilbert and Sullivan story ensues, with all the chaos that comes with it – but not necessarily the happy ending we expect from the duo…
Visionary Jo Davies returns to the London Coliseum to direct, with designs by acclaimed theatre designer Anthony Ward. G&S veteran Chris Hopkins conducts the ENO Orchestra, with a score that – despite being darker in tone – remains characteristically playful of Arthur Sullivan.
Book your tickets to the Tower, to see one of the most beloved Gilbert & Sullivan's operas, The Yeomen of the Guard.
Relaxed performance: Saturday 12th November 2:30pm
Sung in English. The surtitles system displays sung words above the stage.
Venues are adapting to the latest guidance on staying Covid secure - please visit the venue's website to ensure you're up to date with the latest entry requirements and protocols for your show. 
Limiti di età
This production contains some adult content which may not be suitable for young audiences.
I prossimi spettacoli di The Yeomen of the Guard al London Coliseum
mercoledì
9 nov 2022
19:30
Biglietti economici per The Yeomen of the Guard
Guarda The Yeomen of the Guard a Londra! Possiamo farti risparmiare fino al 70% sui biglietti per The Yeomen of the Guard! Se sei alla ricerca di biglietti per teatro scontati, dai un'occhiata qui sotto alle nostre offerte per The Yeomen of the Guard al London Coliseum.
Non ci sono offerte speciali disponibili al momento, ma abbiamo ancora ottimi prezzi dei biglietti per The Yeomen of the Guard al London Coliseum.